Eyeglasses
Children's glasses: Go for durable frames
When you purchase specs, you probably prize style over substance, and perhaps price. But when it comes to buying your kids' eyeglasses, the opposite may be true.
So take these practical pointers for selecting your kids' peepers:
Prep your kids
Get your children excited about wearing glasses by igniting their imagination. Tell them how they'll gain the superpowers to play games and see the blackboard at school. 
Also remind them of cool characters in spectacles, like the Avengers' Bruce Banner, aka Hulk, Daredevil's Matt Murdock, X-Men's Shadowcat and, of course, Harry Potter. 
Make it fun
Turn glasses shopping into a game with multiple moves. You might play with virtual try-on tools  found on many online eyeglasses sites.
Note which kids' eyeglasses are most flattering. If a particular shape consistently flunks, avoid it when you go to the store.
Focus on comfort
If frames are too heavy or pinch noses, your offspring will treat them like some kids ditch bike helmets, dumping them as soon as you're out of sight.
Check the fit
Fit matters. Unlike starlets, kids need to look through, not above or below, their lenses. Their still-developing brain and eyes need to train eye muscles to align for focus and depth perception.
Be flexible
Bend it like Brooklyn Beckham. Kids' flexible glasses may have rubber frames that can be custom-fit. Often these are durable, inexpensive and less likely to fall off, making them great for sports. 
Spring forward
Specs should be built to last. Spring for spring hinges, which flex outward and need fewer repairs. Also seek shatter-resistant polycarbonate or Trivex lenses with scratch-resistant, UV-protective coating for kids' unbreakable glasses. 
If your kiddos practically live outdoors, graduate to photochromic lenses of polycarbonate to block 100 percent of UV rays. Light-adaptive lenses cost more but allow you to bypass sunglasses, especially in the younger set most likely to lose them.
Bonus: These techy glasses are lightweight. 
Hold them in place
For the younger child prone to ripping off accessories, you may need an adjustable elastic strap to hold glasses in place. Or look for side pieces that wrap around the ear, making them harder to yank off.
Check face shape
Flatter your child's face. Consider it easy math, with opposites not just attracting, but attractive. A round or wide face often looks best with square or rectangular lenses, and a square chin merits round lenses. Larger frames might balance an elongated visage.
SEE RELATED: Find the best glasses for your face shape
Get noticed – or not
Kids' glasses should fit their personalities and passions. Some kids want to be noticed — like Gwen Stefani and Gavin Rossdale's son Zuma and Chris Pratt and Anna Faris' son, Jack. Others don't. 
Go with the flow
Don't typecast your offspring ocularly. While you can go wild with little ones — see Jack Pratt's chunky aqua baby frames — avoid tunnel vision with older offspring. 
A bookish child may resist thick frames for fear of being branded a nerd. Most juniors are too cool for school and don't want granny glasses. (Don't bother telling them about John Lennon. They so don't care.)
Little girls will outgrow their Barbie pink and Frozen Elsa blue phase (we pray). Most likely, they'll also outgrow their frames long before they've moved on. (Sob.) 
Older kids might choose to mimic sports heroes like New England Patriots quarterback Tom Brady's classic Wayfarers, LA Laker LeBron James' in-your-face cobalt printed frames or U.S. Soccer champ Megan Rapinoe's gold-metal or red acrylic-rimmed round-eye glasses.
Steer the conversation
Don't forget your ABCs: Kids will feel empowered and invested in the final pairs if you allow them to pick limited options that just happen to be affordable faves of yours. 
It's kind of like saying "Would you like asparagus, broccoli or carrots?"— all good for you! Chocolate and Chanel are not on the menu. 
Get extra glasses
Buy a backup pair and a one-year warranty against breakage and excess scratches. A two-year warranty is unneeded, as small kids most likely outgrow frames by then. 
LensCrafters, TargetOptical and other well-priced children's glasses retailers offer deals or subscriptions allowing you to get a specified number of pairs yearly.
If your child has astigmatism, as do more than one-fourth of 5- to 17-year-olds, you should factor the caliber of optometrist or ophthalmologist into the price you're willing to pay per pair. 
Ready to shop for glasses? Find a glasses store near you.
Page updated September 2019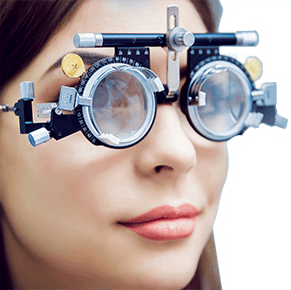 Schedule an exam.