Buying Eyeglasses
How to buy cheap glasses online in six easy steps
Shopping for things online can be tricky. We all have a story about finding a great deal online, and then being disappointed when a lesser version of the item shows up in the mail.
The last thing you want to be subpar is your eyewear, but that doesn't mean buying glasses online is a bad idea. If you do enough research beforehand, buying your glasses online is a great way to build your spectacle collection and take a smaller bite out of your wallet.
If you've purchased all your glasses in the past from an eye doctor or optical shop, use our step-by-step guide to learn how the online buying process works:
Step 1. Get your prescription
Before you can buy glasses online, you'll need to get a comprehensive eye exam and an updated glasses prescription. It's important to get a full exam so your eye doctor can check your vision to give you an accurate prescription.
Make sure to ask for your pupillary distance (PD) to be included on the prescription. Your PD — the measurement between the center of each pupil — is needed to properly align your glasses.
NEED TO BOOK AN EYE EXAM? If you haven't had your eyes checked – or your eyeglasses prescription has expired – use our locator to find an eye doctor near you.
Step 2. Select an online retailer
Compare online retailers until you find the best fit. Read customer reviews on Google and Yelp, do a quick browse of each site's frame selection and price range, and check if your vision insurance is accepted.
Note: If a retailer doesn't take your vision insurance, you can always request an invoice and submit it for reimbursement. Just know this takes extra time (and effort on your part), and you might not receive as much coverage as you would with an in-network provider.
SEE RELATED: Where to buy cheap glasses online
Step 3. Review the return policy
There's always a chance that you'll order a pair of glasses online and for some reason need to return them.
It's wise to read over the fine print on return/exchange policies and product warranties to ensure that if anything happens, you're either covered or you know how much of a financial penalty to expect.
Step 4. Shop for the perfect frames
Before you get too far along into your search, create your own checklist: Glasses style: List your glasses preferences (cat eyes, rimless, horn rims, for example).
Face shape: Do you have a heart, diamond, oval, round or other face shape? Not sure? Use our guide to find your face shape.
Frame favorites: What's your favorite frame shape? Do you want basic black or bolder blue frames? What kind of frame materials – plastic, wire rims or eco-friendly? And what are your frame measurements from your current glasses?
What's your budget? Jot down what you what you want to spend on your lenses and frames. Many online retailers will let you sort frames by price. With your checklist handy – or in your head if you are shopping on your smartphone – you are ready to shop for your perfect frames. When you spot a frame you like, upload your photo to virtually try it on.
Step 5. Choose your lenses
Once you've found your perfect frames, you'll enter your eyeglasses prescription and pupillary distance to get the lenses that correct your vision so you can see clearly at near and far distances.
Choose any lens extras or upgrades you'd like to add, such as anti-scratch coating, blue light blocking or photochromic (Transitions) lenses that darken when exposed to sunlight.
Step 6. Complete your order
Having picked your perfect frames, entered your prescription information and added any lens coatings or upgrades, it's time to complete your order.
How soon do you want your new glasses or sunglasses?
Did you check the online retailer's coupons and discounts page? You often will be able to apply a coupon code to slice – and in some instances take a deep cut – off the price in your checkout cart.
Did you apply any other discounts to save even more? With discounts linked to your credit cards you may be able to get some cash back just by paying with a particular credit card at checkout.
With glasses selected and savings applied, complete your order. Feel free to do your own happy dance. Your glasses should arrive in a few days or weeks.
READY TO SHOP FOR CHEAP GLASSES? Choose an online retailer and grab your checklist.
Page updated October 2019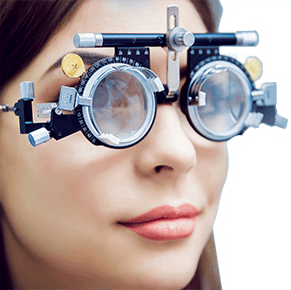 Schedule an exam.