Meet Khloe. This adorable first-grader is the recipient of the 1 millionth pair of glasses from Essilor Vision Foundation .
You may be surprised to learn that an estimated 10 million children like Khloe need vision care in the U.S. (1), yet half of them face barriers that prevent them from receiving it.
Barriers to care – awareness, access and affordability
Like millions of parents, Khloe's mom, Santana, did not immediately recognize that Khloe was having trouble seeing.
"I thought she was just trying to get out of going to school because she kept saying she was bored and had headaches," Santana says.
In fact, as many as 44 percent of parents are not aware that behavioral problems can be an indication that their child's vision is impaired. (2)
Khloe is among the one in four children in the U.S. who has a vision issue significant enough to affect their ability to learn. (3) And while clear vision is vital for everyone, children are especially vulnerable when it comes to their visual health.
Since 80 percent of what a child learns comes through their eyes (4), it's hard to overstate the importance of clear eyesight. Vision impacts every aspect of a child's life, from learning, confidence and social interactions to participating in activities like sports, art or music.
The good news is that 80 percent of visual problems can be avoided or corrected (5), often with a pair of eyeglasses.
Khloe's school nurse diagnosed that she needed glasses during a routine vision screening, but the family faced another barrier – affordability. Nearly a quarter of parents don't have the financial resources to get a full vision exam for their children.  
How Essilor Vision Foundation helps solve the vision crisis
Fortunately, Essilor Vision Foundation's Kids Vision for Life mobile clinic visited Khloe's school, and she received a vision exam and a pair of glasses at no cost to her family.
In addition to our mobile clinics, Essilor Vision Foundation works with eye doctors and vision nonprofits around the country to provide vision exams and eyeglasses to children in need.
Khloe is thrilled with her new pink and black eyeglasses.
"When I got glasses it was easy to see. Now I can see my mom, the board and my brother," she says.
Santana has also noticed a difference since Khloe received her glasses.
"With the glasses, she pays more attention," Santana says. "Before, she didn't want to read and she wouldn't do her homework."
Santana is especially grateful that Khloe can now see clearly and reach her full potential.
"I'm so thankful for this blessing, because otherwise, we wouldn't have been able to do it," Khloe's mom says.
You can help kids like Khloe
There are millions of children like Khloe in this country who need vision care but their families cannot afford it. You can help these children by supporting Essilor Vision Foundation.
For every $50 donated, EVF can provide both a vision exam and a pair of glasses to a child in need at no cost to their family.
Donate today to Essilor Vision Foundation  and help a child soar in life.
SOURCES
(1) Caring for your vision, American Optometric Association, https://www.aoa.org/patients-and-public/caring-for-your-vision
(2) American Eye-Q Report Card, beareye.com/news/Eye-Q-Report-card.pdf
(3) Comprehensive Pediatric Eye and Vision Examination, aoa.uberflip.com/i/807465-cpg-pediatric-eye-and-vision-examination
(4) School-aged vision: 6 to 18 years of age, aoa.org/patients-and-public/good-vision-throughout-life/childrens-vision/school-aged-vision-6-to-18-years-of-age?sso=y)
(5) Blindness and vision impairment, World Health Organization, who.int/mediacentre/factsheets/fs282/en/
July 2019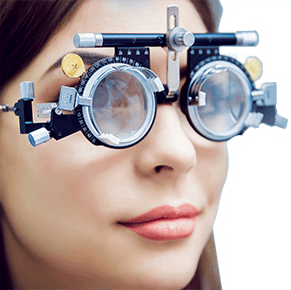 Schedule an exam.