Eye Conditions
Coronavirus (COVID-19): How eyes may play a role in its spread
Our eyes might play an important role in the spread and prevention of the new coronavirus outbreak seen throughout the world.
For this reason, the NHS advises that you do not touch your eyes, nose or mouth if your hands are not clean. It is the mucous membranes (membranes that line the various cavities in the body) that are most susceptible to transmission of the virus.
To cut your personal risk of contracting the new coronavirus:
Wash your hands with soap and water often — do this for at least 20 seconds.
Always wash your hands when you get home or into work.
Use hand sanitiser gel if soap and water are not available.
Cover your mouth and nose with a tissue or your sleeve (not your hands) when you cough or sneeze.
Put used tissues in the bin immediately and wash your hands afterward.
Avoid close contact with people who have symptoms of coronavirus.
Coronavirus in the UK
UK Prime Minister Boris Johnson and Prince Charles have tested positive for coronavirus, and Britain is under a virtual lockdown to contain the spread of the new coronavirus. Non-essential shops have closed, meetings of more than two people have been banned, and people are required to stay at home except for trips for food or medicine.
What does all of this mean? Coronavirus can affect anyone.
Johnson, in his tweet announcing that he tested positive for coronavirus, said he had developed mild symptoms over the past 24 hours.
"I am now self-isolating, but I will continue to lead the government's response via video-conference as we fight this virus," he tweeted. "Together we will beat this."
Johnson's Twitter profile  reinforces the message behind the lockdown: #StayHomeSaveLives.
Why did Johnson order the lockdown? New forecasts from the Imperial College COVID-19 Response Team  projecting the number of projected coronavirus cases and deaths contributed to Johnson's decision to shutter much of the economy to "flatten the curve" and reduce the spread of coronavirus.
How did we get here? What is coronavirus? How is the new coronavirus related to your eyes? We cover all of that and more below. Let's get started.
What is coronavirus?
Reports of a new coronavirus (also referred to as COVID-19) first emerged in late December 2019 in Wuhan, China. 
Coronaviruses are a group of common viruses. Some affect only animals (such as bats, cats, camels and cattle), while others also affect people, according to the U.S. National Library of Medicine.
COVID-19 can trigger ailments as minor as the common cold, or more consequential such as bronchitis, pneumonia and kidney failure. The most severe cases may be life-threatening.
How is the new coronavirus related to your eyes?
The relationship between the transmission of the coronavirus and your eyes is complicated.
Because it's a new illness, we do not know exactly how coronavirus spreads from person to person, the NHS says. Similar viruses are spread in respiratory droplets from coughs and sneezes. These droplets can land in the mouths or noses of people who are nearby, or possibly be inhaled into the lungs. 
It's very unlikely COVID-19 can be spread through things like packages or food, the NHS says.
At this time there is no strong evidence that the new coronavirus (COVID-19) is linked to conjunctivitis. As red eye (conjunctivitis) is not a coronavirus symptom, stay at home or use the 111 online coronavirus service to find out what to do.
Furthermore, the risk of coronavirus transmission through tears is low , according to a new study published in the Ophthalmology journal. Researchers tested tear samples collected from patients with COVID-19 in Singapore.
How might your eyes play a role in transmission?
Peking University respiratory specialist Wang Guangfa believes he may have contracted COVID-19 while not wearing eye protection when treating patients at health clinics in China. 
Medical officials, though, say while this is possible, it may be unlikely.
Wang reported that his left eye became inflamed afterward, followed by a fever and a buildup of mucus in his nose and throat. He subsequently was diagnosed with new coronavirus.
According to the South China Morning Post , Wang thinks the virus entered his left eye because he wasn't wearing protective eyewear.
Dr. Jan Evans Patterson, professor of medicine and pathology in the Long School of Medicine's infectious diseases division at The University of Texas Health Science Center at San Antonio, confirms that a scenario like Wang's could potentially happen.
In Wang's situation, she says, respiratory droplets from an infected person might have reached his eyes or other mucous membranes.
Generally, though, transmission of COVID-19 comes with so many unknowns that it's "plausible but unlikely" to contract it through hand-to-eye contact, says Dr. Stephen Thomas , chief of infectious diseases at SUNY Upstate Medical University in Syracuse, New York. 
How contagious is the new coronavirus?
Currently, it's not known how "easily or sustainably" the virus spreads from person to person, according to the U.S. Centers for Disease Control and Prevention (CDC).
Many large gatherings and events have been cancelled or postponed as a public health measure to contain the spread of the new coronavirus. UK health officials  have implemented these emergency measures as a best practice to contain the transmission of the virus.
New guidelines from Public Health England  urge UK residents to:
Avoid contact with someone who is displaying symptoms of coronavirus (COVID-19). These symptoms include high temperature and/or new and continuous cough.
Avoid non-essential use of public transport, varying your travel times to avoid rush hour when possible .
Work from home, where possible. Your employer should support you to do this. Please refer to employer guidance for more information .
Avoid large gatherings, and gatherings in smaller public spaces such as pubs, cinemas, restaurants, theatres, bars and clubs .
Avoid gatherings with friends and family. Keep in touch using remote technology such as phone, internet and social media.
Use telephone or online services to contact your GP or other essential services.
Social distancing is one way to avoid catching and spreading coronavirus, the NHS says. Social distancing is "particularly important" for people who are:
70 or over
Have a long-term condition
Are pregnant
Have a weakened immune system
---
IF YOU'RE NOT FEELING WELL... Stay at home if you have either:
A high temperature – you feel hot to touch on your chest or back.
A new, continuous cough – this means you've started coughing repeatedly.
Do not go to a GP surgery, pharmacy or hospital. If you suspect you may have conjunctivitis, call an optician near you. It is suggested that patients do not present to medical or eye care facilities without a prior phone call to help to decrease the possible spread of the virus. A phone call allows the health facility to prepare for your visit and diagnose and treat you in a proper manner.
---
What are the symptoms of the new coronavirus?
Symptoms of COVID-19 include a mild to severe respiratory illness accompanied by a fever, cough and breathing problems, according to the World Health Organization  (WHO). Other symptoms include runny nose, sore throat and headache.
Most people develop only mild symptoms. But some people, usually those with other medical complications, develop more severe symptoms, including pneumonia, which can be fatal.
Symptoms normally show up two to 14 days after someone has been exposed to the virus.
How is COVID-19 diagnosed?
Health care professionals diagnose the coronavirus through lab tests of respiratory or blood samples.
The UK is one of the first countries outside China to have a prototype specific laboratory test for this new disease, according to the NHS. Public Health England developed the tests for this virus in cooperation with WHO and other global laboratories.
Is there a vaccine or treatment for the new coronavirus?
So far, no vaccine or antiviral treatment has been identified. Therefore, the best method for limiting the spread of this virus is to quickly isolate people who have it before they infect others, the Harvard Business Review says.
How can you cut your risk of contracting coronavirus?
The Department of Health and Social Care has established a site with the most up-to-date information related to the coronavirus outbreak .
The recommended steps to prevent illness from the Department of Health and Social Care include:
Clean your hands often
Wash your hands often with soap and water for at least 20 seconds especially after you have been in a public place, or after blowing your nose, coughing or sneezing.
Avoid touching your eyes, nose and mouth with unwashed hands.
Reduce your exposure
Avoid close contact with people who are sick.
Stay home if you're sick — except to get medical care.
Cover coughs and sneezes
Cover your mouth and nose with a tissue when you cough or sneeze or use the inside of your elbow.
Throw used tissues in the bin.
Immediately wash your hands with soap and water for at least 20 seconds.
Wear a face mask if you are sick.
If you are NOT sick: You do not need to wear a face mask unless you are caring for someone who is sick (and they are not able to wear a face mask). Face masks may be in short supply and they should be saved for health care workers.
Clean and disinfect surfaces
Current evidence suggests that novel coronavirus may remain viable for hours to days on surfaces made from a variety of materials, the CDC reports. Cleaning of visibly dirty surfaces followed by disinfection is a best practice measure for prevention of COVID-19 and other viral respiratory illnesses in households and community settings.
At least some coronavirus can potentially remain viable — capable of infecting a person — for up to 24 hours on cardboard and up to three days on plastic and stainless steel, The Washington Post  reports, citing research  by a laboratory that is part of the National Institute of Allergy and Infectious Diseases.
How to dress to limit exposure
According to the World Health Organization, if you have the potential of being exposed to a person with coronavirus, you should be equipped with protective eyewear, a surgical mask, medical gown, medical gloves and a disposable respirator.
Page updated March 2020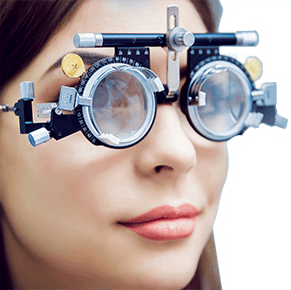 Find an optician near you.