Best Sunglasses
What are the best sunglasses for golf?
There are a number of options for golf sunglasses, and choosing the best sunglasses for golfing is similar to choosing the best clubs to improve your game — advanced technology helps you play your best.
Polarized sunglasses are a popular choice for golf sunglasses because they offer superior glare protection. But some golfers prefer non-polarized lenses because subtle differences in the angle of blades of grass on greens sometimes are more visible without polarization.
Brown, amber and copper-colored sunglass lenses are popular because these tints enhance the contrast of a white golf ball against the sky and the green background of fairways and greens.
Also very important is the lens material and the frame style and shape. Polycarbonate lenses are preferred for two reasons: 1) polycarbonate is one of the lightest sunglass lens materials available; and 2) it is the most impact-resistant lens material for added safety.
Also, anti-reflective coating added to the back surface of the lenses will help reduce glare from light reflecting off the backside of the lenses when the sun is at your back.
Golf sunglasses  should have a wide, wraparound style frame that fits closely to the face. This design helps protect the eyes from wind, dust and the spray of fine sand when hitting a bunker shot.
It's essential that the frame of golf sunglasses also is lightweight and fits securely on the face so there's no movement of the sunglasses during an aggressive drive, a delicate putt, and every kind of shot in between.
Page updated January 2018
Read Previous
What are the best sunglasses for fishing?
Read Next
How Do You Keep Sunglasses From Slipping Down Your Nose?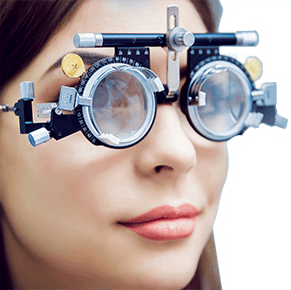 Schedule an exam.